Note: we are going to give each participant your own blog site, so you can take pictures and post them, and your thoughts during CSA VIII. That means: be sure to bring either your smart phone (with a camera) or a digital camera with you every day.

INTRODUCTION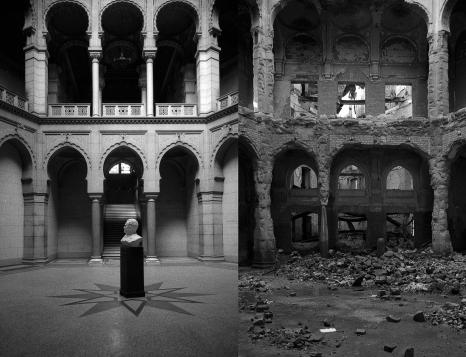 (Photo above, left: former City Hall of Sarajevo, where Franz Ferdinand stood only minutes before being shot. Photo taken in 1988. Photo right: the City Hall became the University of Sarajevo library, which was destroyed in 1992 by Bosnian Serb forces. Photo taken in 1993)    
Some historians say the twentieth century began in Sarajevo in 1914. We believe the twentieth Century also ended in Sarajevo in 1992. In between the Austrian Archduke's assassination and the Bosnian Serb siege of Sarajevo, there is - among all the history, tragedy and epochal events - a Jewish story to tell, one that is relevant for all of us - Jews, Muslims and Christians, North Americans, Europeans, Israelis.

"The extermination of the past - by design, by neglect, by good intention - is what characterizes the history of our time. That is why the ahistorical memory of a marginal community that found itself in the whirlwind may yet be the best guide to our era."  Tony Judt, The New Republic, 1996
"Aliens everywhere and everywhere at home, lifted above national quarrels, the Jews in the twentieth century were the principal cosmopolitan, integrating element in Central Europe:  they were its intellectual cement, a condensed version of its spirit, creators of its spiritual unity...In their destiny the fate of Central Europe seems to be concentrated, reflected and to have found its symbolic image." Milan Kundera, "A Kidnapped West, or Culture Bows Out," Granta, 1984
Goals and objectives for participants
- to meet teachers and school directors from other countries and create partnerships that will produce videos and other projects together;
- to take part in workshops run by other teachers, who use digital storytelling, lessons that teach critical thinking, and student-directed pedagogies to meet curriculum requirements, including school, county, state and common core standards;
- to tour two of the great cities of Central Europe and add to your own knowledge base on 20th century Jewish, intellectual, and cultural history of Europe;
- to become familiar with Centropa's photograph and interview databases, short multimedia films, and other website resources;
- to read and discuss The Hare with Amber Eyes, by Edmund de Waal, and The Lazarus Project by Alexander Hemon
Your Centropa Summer Academy Assignments: Each participant will create his or her own user profile on the Centropa page - we call it your Virtual Centropa Box (VCB) - where you can bookmark your favorite Centropa films, biographies, photos, and lesson plans; write notes for yourself and your students; and blog about your CSA experiences.
This year, we're doing something different with the CSA blog: we will pair you with an educator from another country, and your blog assignment will be to dialogue with each other through your blog posts about your CSA experiences. We encourage you to respond to each other's posts in your own blog. (NOTE: We will pair you with a fellow educator prior to the CSA and notify every participant by email.)
The VCB and the blog are where you share ideas and pictures with your students as you walk through these two great cities - and by being in dialogue with a teacher from another country, they will get two perspectives. The end result of both assignments is when you return to your classrooms, you will have a set of tools and new resources to use throughout the year.
Assigned books to read
The Hare with Amber Eyes, by Edmund de Waal. When the author, a sculptor in London, inherits 264 small Japanese figurines, he decides to trace how his family acquired them, following his family's journey from Odessa, to Paris, and Vienna, their rise and dramatic fall.
The Lazarus Project, by Aleksander Hemon. The latest novel by a writer now compared to Nabakov, this hysterical, poignant novel will bring you closer in touch with Sarajevo and its citizens than any other we know.
Recommended
Old Masters, by Thomas Bernhard. This short novel is one long monologue, in which one elderly friend meets another friend each week in front of a Tintoretto in the Kunsthistorisches Museum in Vienna. His friend rails at what perfectly horrible people the Austrians are. Written by an author who makes all other misanthropes seem like St Thomas Aquinas, this is the funniest and most brilliant book one can find on postwar Austria.
The Sleepwalkers, by Christopher Clark. Over the past century, more than 25,000 books have been written on the origins of the First World War. It seems another 25,000 have been written this year alone. There are several important books to recommend, but we suggest this very well written history as a starting point.
1941: The Year That Keeps Returning, by Slavko Goldstein. Slavko Goldstein is a publisher, journalist and political activist in Croatia. The book has been hailed as one of the best Holocaust memoirs in recent years, and 1941 is a combination of family memoir and meticulous research. We will be having dinner with Slavko Goldstein in Zagreb.
Sarajevo 1941, by Emily Greble. Her doctoral study - based on contemporary documents - on how Sarajevo's multi-ethnic society reacted during the Second World War. Greble spoke at our summer academy in Sarajevo in 2011. Go to our home page, click on podcasts, and you can find her lecture online.
Logavina Street, by Barbara Demick (sometimes sold under the title Besieged). Then a reporter at the Philadelphia Inquirer, Demick spent the better part of a year during the siege of Sarajevo getting to know the residents of one narrow street in the city center. By focusing on each household, Demick brings the horrors, the boredom and the pain of what it was like to live in a city surrounded by rockets, mortars and snipers.
The Vertigo Years. Change and Culture in the West, 1900-1914, by Philipp Blom. As The Guardian wrote, this assessment of the gravity-eroding, giddying sweep of European cultural, social, political and spiritual change that permeated the first 15 years of the 20th century is an ambitious book. But Philipp Blom has pulled it off triumphantly." During his meeting with our group on Friday, July 10 in Vienna, we will have the opportunity to discuss with him his thesis that war came only as a catalyst for permanent change to the already crumbling structure of Europe, rather than as an interruption to a mistakenly interpreted idyll.



Our Scholars and Speakers
Hannah Lessing

General Secretary of the National Funds of
the Republic of Austria for Victims of
National Socialism

Dr. Elizer Papo

Director of Sephardic Studies
Ben-Gurion University

 

Phillipp Blom

Historian

Dr. Paul Miller

Historian

Douglas Davidson

Special Envoy for Holocaust Issues,
US State Department

 

Dr. Claus Raidl

President of the

Austrian National Bank

 

 

Martin Pammer

Austrian Ambassador to Bosnia

 
Day one. Wednesday, 9 July 2014

NOTE: Since hotel check-in is officially not until 3 pm, you may not be able to check in to your hotel room until after the day's program, at 8:30 pm. You may, however, store your luggage at the hotel (if you arrive in time to stop at the hotel before the program). We recommend you pack accordingly. If you come straight to the Diplomatische Academy, bring your luggage and we will assist you.
12:00 Welcome participants: registration, each participant receives a name tag and a gift bag, which will include USB sticks with the films you will use during the CSA, among other things.
12:30 Program begins with a buffet lunch in the Vienna Diplomatic Academy, the international institution that has been training European diplomats for more than two centuries.
-         Welcome and Introduction of Centropa Staff; we will go over the CSA assignments
-         Welcome by Dr Hans Winkler, former State Secretary of Foreign Affairs
-         Greetings by Sonja Wehsely, City Counselor for Social Affairs.
 
Groups sit with the members of their country / regional groups and get to know each other: Groups are as follows:
1) Participants from Macedonia, Croatia, Serbia, Bulgaria, Romania, Greece
2-4) North American participants
5) Visegrad educators (Poland, Hungary, Slovakia and Czech Republic)
6) Israeli participants
7) Germany and Austria
8) Lithuania, Slovenia and Italy
13:30 Welcome and introduction by Centropa, followed by Teacher Presentation: Anthony Ludwig, Why Teach History?
14:00 Country / regional groups meet in breakout rooms. Each participant introduces themselves, and group will appoint a leader who will summarize.
14:45 Back at the Festsaal (the big conference room), each national group stands up, introduces itself, and gives a three minute presentation—why we are the best group to partner with (this is not meant to be entirely serious). Appointed group leader will introduce each member of your team:
- three things that everyone is wrong about when they speak of your country;
- and three reasons why your country, is the best to partner with;
15:20 Brief introduction to our tour
15:30 Coffee break
15:45 Bus ride along the Ringstrasse Boulevard, which was built under Emperor Franz Joseph between 1860 and 1890. We will pass the Postsparkasse savings bank, which was designed by Otto Wagner in 1906 and is one of the great symbols of Viennese Jugendstil. 
16:15 We will tour the Museum of Applied Arts (the MAK) and view its "Vienna 1900" exhibition.
17:45 Bus leaves for dinner
18:15  Dinner as guests of the City of Vienna. We will drive into the suburbs of Vienna and have an early dinner in an outdoor traditional heurigen (wine tavern with food); We will be joined by Silvia Friedrich from the International Department of the City of Vienna. NOTE: wine will be free that evening, thanks to our hosts. 
20:00 Return to hotel by bus
Day two. Thursday, 10 July.
Dress code: Lunch
Location: Diplomatic Academy
Please bring the photograph and summary of the biography you read from the Centropa website (pre-trip assignment).
8:00 Group work: Participants will meet in small groups and present their pre-trip assignment (photo and summary of Centropa biography).
9:00 Presentation of the Centropa website. Even veteran teachers will benefit from this overview, as we will present new features and go over how to create your Virtual Centropa Box through the User Profile feature on the website.
We will also present the Border Jumping page, and two teachers will show us different how they used the website: Zsolt Martha from Budapest will present his "Tableau" project, and Lowell Blackman will show how his students followed a life story of person on the Centropa website.
Screening of two films, followed by discussion.
- Maps, Central Europe and History
- Jewish Soldiers in the Austro-Hungarian Army
10:15 Coffee break
10:30 Break into professional groups for work sessions.
Because these groups will be large and diverse, we ask that you find like-minded colleagues and split into smaller groups, discuss and write out basic lesson plan on our morning session; post this on your VCB. You may also want to post on your blog, reflecting on what information or points from the morning's session you want to be sure to include in your lessons, and bring back to your students.
Professional groups include:
1) Elementary/Middle School History teachers (11-14 year olds)
2) High School History teachers
3) Elementary/Middle School English language teachers
4) High School English language teachers
5) Judaics teachers
6) Literature teachers
European, Israeli & US Administrators: please divide yourself up among the above groups. 
11:30 Groups meet at the main conference room ("Festsaal"). Centropa will hand out fact sheets about the interviewees.
11:45 Participants will meet our elderly interviewees from Vienna, all of whom speak a variety of languages: German, English, Hungarian, Polish, and Czech. Centropa will hand out one page fact sheets on each of our interviewees.
12:30 Lunch with special guests at the Diplomatic Wien. Hosted by the Austrian National Bank. Guests include the German Ambassador and other dignitaries from the Austrian Foreign Ministry and the Austrian chancellery. Over coffee, participants will continue to chat with our Jewish interviewees.
14:15 Workshop on video storytelling: how we turn biographies into stories. Followed by presentation of guidelines for submitting lessons.
14:45 Memory and Forgetting. Austria is a country that for many years, remembered poorly and forgot very well. We will discuss and compare how Germany and Austria came to terms with the Third Reich and its aftermath. But does any country remember its dark chapters well? Discussion led by Ed Serotta.
15:15 Coffee break
15:30 Bus leaves for Heldenplatz and the Hofburg, where the Habsburgs ruled for centuries. This is where around 200.000 Austrians came to greet Adolf Hitler in March 1938.
16:00 We will split up into two groups; one will be led by Paul Miller, one by Ed Serotta.
16:30 One group will visit the glorious National Library of Austria, and view the very first facsimile copy of the Sarajevo Haggadah, while the other will visit the Hradlicka memorial "against war and terrorist regimes." Hint: it's not a Holocaust memorial, even if it looks like one.
17:00 Groups switch.
17:45 Both groups meet in front of the Vienna Jewish Museum, where we will tour the First World War exhibition and have a discussion with the education team of the Jewish Museum.
19:30 Free evening to explore Vienna, and return to the hotel, on your own.
Day three. Friday, 11 July
Dress code alert: lunch and dinner
NOTE: As we will head to Zagreb tomorrow, we recommend you buy any drinks or snacks you want for the bus ride (approximately 6 hours). Centropa will provide a bagged lunch and a bottle of still water on the bus.
9:15 Meet at the front entrance gate of the Upper Belvedere Museum (8 min walk from your hotel). If participants want to explore the gardens of the Belvedere (we highly recommend the free visit), please do so before 9:15. Make sure you are on time, as the Belvedere Museum will open its doors earlier for our group.
The Belvedere's two magnificent palaces, the Upper and Lower Belvedere, were built in the 18th century as the summer residence for Prince Eugene of Savoy, who helped chase the Ottomans away from Vienna, and burned Sarajevo to the ground in 1697. He chose one of the most outstanding Baroque architects Johann Lucas von Hildebrandt (1668-1745). The palaces with their extensive gardens are considered to be one of the world's finest Baroque landmarks. From 1894 to 1914, this was the home of Franz Ferdinand.
The Upper Belvedere houses Austrian and European art dating from the Middle Ages to the present day. At the heart of the displays of "art around 1900" is the world's largest Gustav Klimt collection. The highlights are Klimt's "Kiss" and "Judith," and masterpieces by Schiele and Kokoschka. During our guided tour (one hour), we will view selected paintings by Klimt and other highlights of the Belvedere. At 10:30, we will meet the Deputy Director of the Belvedere, Dr. Alfred Weidinger, for a brief discussion.
11:00 Group walks from Belvedere to the Diplomatic Academy
11:30 Book discussion led by Shmuel Afek on The Hare with Amber Eyes. Several teachers will also tell us what this book meant to them, and how this book might be used in a classroom context:  Michael Heitz and Marta Goldmann.
12:15 Philipp Blom, author of The Vertigo Years. Change and Culture in the West, 1900-1914, will talk about Europe at the turn of the century.
13:00 Lunch with special guests.
14:00 Hannah Lessing, General Secretary of the National Fund of the Republic of Austria for Victims of National Socialism, will introduce Centropa's newest Austrian film: The Past Is Another Country, the story of Leo Luster, who was born in Vienna, survived Auschwitz, and immigrated to Israel in 1948. Followed by brief discussion.
14:45 Dr. Ingo Zechner  will present the project "Ephemeral films". Drawing from the unique collections of the Austrian Film Museum, the United States Holocaust Memorial Museum, and the Ludwig Boltzmann Institute for History and Society, this project has digitized, annotated, and made accessible 25 ephemeral films related to the history of the Nazi period and the Holocaust in Austria.
15:00 Group work: using the Luster film, and the story of Vienna's Jews, in your classrooms.
16:00 Coffee break
16:15 Everyone to spend time on their Virtual Centropa Box, and we encourage you to add images of the art you saw at the Belvedere to your VCB, photos of any of the interviewees you may have taken (if they gave you permission), and/or blog about your discussions with the Centropa interviewees.
17:00 Participants return to hotel
 Dress code alert
18:15 Bus picks up all participants from hotel and drives to synagogue
19:00
Shabbat services at the Seitenstettengasse Synagogue, followed by shabbat dinner in community restaurant. Dr Paul Miller will speak about Franz Ferdinand's fateful trip to Sarajevo (as we will be seeing his car the following morning during our visit to the Military History Museum).
ca. 21:15 End of shabbat dinner. You are free to explore Vienna - it is your last night - or join us for an optional visit to the eerie Holocaust memorial, designed by British sculptor Rachel Whiteread.
Reminder for those working on films: be sure to download whatever clip art, audio or other items you might need from the Internet so you can work on the films during the bus ride.
Day four. Saturday, 12 July

From Vienna to Sarajevo
8:15 Check out of hotel, load bus, which will leave precisely at 8:45. We will visit Vienna`s Heeresgeschichtliches Museum (Military History Museum), where you will take photos for your blog - and for your students - of the very car in which Archduke Ferdinand and his wife were assassinated in Sarajevo on June 28, 1914.
10:00 We drive to Zagreb. Centropa will provide lunch bags and a bottle of water.
16:00 Check in at Palace Hotel.
17:00 Guided tour through the old city (Gorni Grad), which looks like a mini-Prague. Note: Centropa will provide a small bottle of water to every participant.
19:00 Dinner at Palace Hotel
20:00 Group meets Slavko Goldstein, author of 1941: The Year That Keeps Returning. In his review in Tablet Magazine, Adam Kirsch wrote, "In its combination of personal intimacy and historical rigor, it is one of the most remarkable books about the Holocaust to have appeared in recent years."
20:45 Participants are free to blog, or enjoy the city. 
Day five. Sunday, 13 July
7:45 Finish breakfast and check out of your room.
8:00 Buses depart from Palace Hotel in Zagreb for Sarajevo. Centropa will provide lunch bags and a small bottle of water.

In the Footsteps of Franz Ferdinand
15:00 Arrive in Sarajevo. Check in at Hotel Europe and Hotel Art.
16:00 Walking tour with our scholar-in-residence, Dr Eliezer Papo. Eliezer was born in Sarajevo, and holds a doctorate in Sephardic history, and teaches at Ben Gurion University in Israel. Our other guides will be Ed Serotta and Asmir Hasicic, president of the History Teachers' Association in the Canton of Sarajevo. NOTE: Centropa will provide one bottle of water for each participant during the walking tour.
On your route through the city, we will point out what is called a "Sarajevo rose," which is where a mortar shell hit. There, we will read Maggie O'Kane's story about the death of the young Spanish photographer, which you can find in the Sarajevo source book.
We will tour the city's grand Ottoman-era Gazi Husrev-beg mosque, then see its Austrian-era buildings and cathedrals. We will stand on the very corner where Gavrilo Princip shot Franz Ferdinand. We will also visit the Jewish Museum of Sarajevo.
18:20. Return to hotels for quick change, then walk to the Jewish community, which is only five minutes away.
19:00 Dinner in the Sarajevo Jewish community center, hosted by the Embassy of Spain. We will meet those who volunteered for La Benevolencija, the Jewish humanitarian aid agency that helped an entire city during the siege, 1992-1995. The Spanish Ambassador, María Aurora Mejía Errasquín, will join us and speak to the group.
We will watch our film, Survival in Sarajevo. Remarks by Jakob Finci, President of La Benevolencija, and our scholar-in-residence, Eliezer Papo.
20:30. Participants return to hotels.
Day six. Monday, 14 July
Beyond studying history: empowering your students to do history
8:00 Meet in conference room in Hotel Europe. Use this time to upload your photos and ideas from yesterday's tour and dinner to your VCB, and blog.
8:45  Welcoming words by Jens Wagner, First Secretary for Culture, Press and Protocol at the German Embassy in Sarajevo.
8:55 Introduce new participants to the seminar: Centropa teachers from Bosnia, Serbia, and Macedonia. They will show us the projects their students have made, connecting them with their towns' Jewish histories. A few of these teachers will talk about how important it is to rebuild bridges between them, and how Jewish stories in the Balkans helps connect them all.
9:30 How civil society goes from theory to practice. Teachers from Serbia, Germany, Israel and the US will tell us how they use our film and exhibition Survival in Sarajevo.
- Maureen Carter and Maureen Holtzer from Florida, USA will present with Marko Dimitrijevic and Senka Jankov from Serbia how their students are working together.
- Kirstin Lakeberg from Germany and Asmir Hasicic from Bosnia will present their Bonn-Sarajevo project on how to use Centropa's Survival in Sarajevo exhibition
- Victor Gurevich from Israel will share with us how he used La Benevolencija as a role model for a class project on human aid agencies
Finally, Jacek Jaros from Kielce in Poland will show how his students and students from Greensboro, North Carolina first made their own films on the history of their town and their family, and then shared their projects with each other through facebook.
10:45 Coffee break
11:00 Now that you've seen how teachers create cross-cultural projects for their students, you create your own partnerships for the coming year. Please put your ideas for the partnership on your VCB.
Group 1) EU Jewish school teachers, US Jewish school teachers and Israeli school teachers
will discuss partnerships and joint projects. Led by Ricky David (Sweden), Shmuel Afek (USA) and Natalia Shushin (Israel)
Group 2) Balkan teachers. Led by Daniela Sterjova (Macedonia) and Marko Dimitrijevic (Serbia)
Groups 3) All other European schools. Led by Robert Kozak and Ulrike Lackner (Austria)
Group 4) US public school teachers meet for a discussion on DBQ (document-based questions) and how to use Centropa with Common Core. Led by Barbara Hairfield, Maureen Carter and Jonathan Wade
12:00 Teachers present their cross-cultural project ideas. Each group gets five minutes to make their presentation.
12:30  We will watch Centropa's film 1492: El Otro Camino. This film follows five hundred years of Sephardic Jewish history in the Balkans, beginning with their expulsion from Spain in 1492 to the 1992 when Sarajevo's Jews worked with their friends and neighbors to help an entire city. Followed by brief discussion.
13:00 Lunch in Hotel Europe. (Note: We would like Barbara Hairfield, Jonathan Wade, Biljana Stojanovic, Maureen Carter and Amy Vargas-Tonsi to sit together.)
13:45 Skype call with Tim Butcher, author of The Trigger. Hunting the Asssassin who Brought the World to War (about Gavrilo Princip)
14:00 Book discussion on The Lazarus Project by Aleksandar Hemon, led by Eliezer Papo
14:15 We will watch and discuss our Sephardic film from Salonika, A Bookstore in Six Chapters. Eliezer Papo will give remarks on the Jewish history of Salonika.
15:00 Coffee break.
15:15 Your choice of projects. Teachers from the groups listed below will meet to discuss:
--how to use the Molho film in class, or
--create a lesson on the multicultural legacy of Sarajevo,
--or create a lesson on the assassination of Archduke Franz Ferdinand and/or the beginning of the First World War.
You will upload your lesson plan ideas onto your VCB. Veteran teachers will facilitate the working groups.
    - US Jewish
- European Jewish
- Israeli schools
    - North American public schools (two groups: middle and high school)
    - European public schools (three groups)
16:30 Five minute presentations by each group, followed by brief discussion.
17:30 Free evening
Day seven. Tuesday, 15 July
8:30 Bus tour morning. (We will have two buses, and each bus will visit all three of our stops this morning, at different times)
--the Tunnel Museum
--the main public cemetery
--the famous Sephardic Jewish cemetery
Tunnel Museum: the people of Sarajevo burrowed a narrow tunnel under the airport during the Bosnian-Serb siege of the city, which helped keep their city alive. It's now a museum.
Public Cemetery: we will hand out to everyone a copy of Kurt Schork's Romeo and Juliet Reuters' article. Standing around the graves of Bosko, a Serb, and Admira, a Muslim, as well as the grave of the reporter who brought them fame in death, we will read this article aloud to each other.
We visit the Jewish cemetery, which dates from the 16th century and has tombstones unlike any other in the world. The cemetery was mined during the siege, and we think most of the mines have been removed. You can find out for yourself.
12:30  Lunch at Hotel Europe, in cooperation with the Ebert Foundation and the German Embassy. We will invite teachers from Republika Srbska and Croatian cantons to join us.
13:15 Innovation in the classroom: teacher presentations on creative Centropa lessons.
- Jeff Ellison from Chicago on using Centropa stories for theater plays.
- Kelli Gerhardt from South Carolina on a school field trip using Centropa photos, and a "pay it forward" good deeds project.  
- Daniela Sterjova from Macedonia on how her students created an exhibition on Sephardic Jewish life
- Paul Kindj from Slovakia on how to use the Centropa platform exhibition in innovative ways.
- Raimonda Sadauskiene and Gintare Liorancaite from Lithuania will show us how their students use Centropa and how they learn about local Jewish history.
14:30 Coffee break
14:45 Screening Three Promises: The Story of the Kalefs of Belgrade. Film to be introduced by Biljana Stojanovic and our Serbian teachers. How we use this film in our classrooms.
15:15 Workshops:
    1) Centropa film team will answer questions for those who have been shooting video, and work with them on editing their films and photos.
    2) Using the creative projects presented earlier today as inspiration, teachers not making videos will design student-directed projects using any of the material from the Balkans. Teachers will meet in the following groups, and everyone will upload this lesson onto their VCB:
Group 1) EU Jewish school teachers, US Jewish school teachers and Israeli school teachers. Led by Ricky David (Sweden), Shmuel Afek (USA) and Natalia Shushin (Israel)
Group 2) Balkan teachers. Led by Daniela Sterjova (Macedonia) and Marko Dimitrijevic (Serbia)
Group 3) All other European schools. Led by Robert Kozak and Ulrike Lackner (Austria)
Group 4) US public school teachers will meet to discuss using these materials in DBQs (document-based questions) and other projects that teach critical thinking, as well as how to use Centropa with Common Core. Led by Barbara Hairfield, Maureen Carter and Jonathan Wade
16:30 Teachers share their Balkan project ideas with each other, receive feedback.
17:15 End, followed by free night in Sarajevo.
Day eight. Wednesday, 16 July
8:45 Leave hotel on your own after breakfast and be in front of the Jewish Community Gallery "Novi Hram", next to the Old Synagogue, which houses the Jewish Museum.
9:00 Jakob Finci will walk us through an exhibition on the Djakovo concentration camp.
In December 1941, 2,500 women and children were deported from Sarajevo to Djakovo, a small town in Croatia. 556 of them died over the next six months. In July 1942, 2,000 women and children were then sent off, never to be heard from again. Here is what makes this story remarkable: the caretaker of the Djakovo Jewish cemetery, Stefan Kolb, secretly recorded where he buried the 556 victims, and recorded their names, cities and dates of birth. After the war, an individual plaque was placed on each grave.  That makes Djakovo unique. Every grave has a name. Jakob Finci will tell us how a Sarajevo Jewish community member, Lea Maestro, coordinated efforts to place new grave markers for these victims.
9:45 Return to Hotel Europe
10:00 Jakob Finci, President of the Inter-religious Council, will speak about the story of the legendary Sarajevo Haggadah, arguably the most famous Jewish book in the world.
10:30 The significance of civil society on the 25th anniversary of the fall of the Berlin Wall. A discussion with Ed Serotta, and our special guest today, Austrian Ambassador Martin Pammer, who has been serving in the Balkans and Central and Eastern Europe for decades.
Who brought down the Berlin Wall in November 1989? Who was that jumping on top of Felix Dzjerzinki's statue in Warsaw that fall?  Who filled the streets of Prague a few weeks later? Who was standing in Bucharest in December and started yelling, "Jos Ceausescu!" (Down with Ceausescu!). Who continued to squeeze and hector the ruling Communists of Poland until they submitted to holding free elections?
Was it, as many Americans have been led to believe, all due to Ronald Reagan, or as many Poles believe, because of Pope John Paul II? Or could it have been the citizens of all these countries? They were the ones who came out into the streets—and as civil society—brought down the creaking, dying infrastructure of the One Party State.
We will have a discussion with Ambassador Pammer and Ed Serotta and review what happened in 1989--from May, when the Austrians and Hungarians cut the barbed wire separating their countries, to December, when the Communist regimes of Poland, Hungary, Czechoslovakia, Romania and Bulgaria had all found themselves on the ash heap of history.
11:15 Coffee break
11:30. US Special Envoy Douglas Davidson is currently responsible for Holocaust issues, but Ambassador Davidson has long been one of the State Department's top Balkan experts and most recently, served as head of the OSCE (Organization for Security and Cooperation in Europe) delegation in Bosnia, where he oversaw the efforts of a team of 600 people. Previous to that, Ambassador Davidson served in Kosovo, Croatia and Serbia. Douglas Davidson will discuss with us what it has been like to try and stitch Bosnia back together after its long and brutal war. Ambassador Davidson will be joined by Ambassador Martin Pammer of Austria, who has served in Croatia, Slovenia, Montenegro, Hungary and Bosnia Hercegovina.
12:30 Lunch.
13:30 Final meeting of professional networks. This session is a chance to learn what others have done during the CSA: their VCBs, the lessons they created, and the materials they've bookmarked to use during the upcoming school year. In the below groups, participants will share with each other their VCBs, and highlight one particular lesson they will teach in the coming school year. Then, the group will choose one VCB to share with all participants in a group presentation. We ask that you choose the VCB that has the most resources and/or is the most developed. The goal: share with each other ideas for how to use the VCB, as well as Centropa resources, in the 2014-2015 academic year.
1) US Jewish schools
2) EU Jewish schools
3) US public schools
4) European public schools
5) Israeli schools
14:30 Coffee break
14:45 Presentations of VCBs.
15:45 Final wrap up session.  Discussion about what we have learned, what we need to improve, and what we're going to do when we return to our classrooms. Teachers will receive their certificate of participation in the Centropa Summer Academy.
17:30  End of program
Day nine. Thursday, 17 July